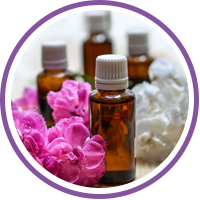 Essential oils
The natural remedy from concentrated plants!
Aromatherapy is the use of natural plant extracts called essential oils to improve physical, mental and emotional wellbeing.
Essential Oils consultation:
This personal consultation is perfect for determining the best fit oils for a wide range of issues including pain, respiratory, moods & sleep, allergies, digestive, immune support and much more.
We will talk about your current situation, problems or wishes and I will advise you about possible oils and applications.
My consultation will include information on how to choose essential oils, how to use them safely and what you can do with them.
It´s a great way to explore how to use essential oils in your everyday life.
I will email you a questionnaire asking for a few details prior to your appointment (presential or online) to help me select a few recommendations for you. I will provide you with clear written instructions on how to use the needed oils, where to apply them...
Duration of the consultation: approximately 1 hour
Price of a complete consultation: 80 €
What are Essential oils?
Essential oils are aromatic, concentrated plant extracts that are carefully obtained through steam distillation, cold pressing, or resin tapping.
For over 5,000 years, many different cultures have used these plant oils for a variety of affections. Nowadays hey are used for relaxation, emotional balance, beauty care, home cleaning and as natural remedies.
When inhaled, the scent molecules in essential oils travel from the olfactory nerves directly to the limbic system of the brain and especially impact the amygdala, the emotional center of the brain. The limbic system is directly connected to those parts of the brain that control heart rate, blood pressure, breathing, memory, stress levels, and hormone balance. This relationship helps explain why smells often trigger emotions. Knowing this, we can hypothesize how inhalation of essential oils can have some very profound physiological and psychological effects!
When essential oils are applied to the skin, their components are absorbed into the bloodstream by the pores and hair follicles. Once inside the bloodstream, they disperse to the specific organs and systems on which they work. Pulse points are the areas of the body where blood vessels are closest to the skin's surface. Applying essential oils to these areas allows for quicker absorption and help them get to work faster.
People using essential oils have reported an array of benefits, such as:
manage & alleviate pain
improve sleep quality
ease cold and flu symptoms
reduce stress, agitation, anxiety and depression
relax your body and soothe sore muscles & joints
reduce cellulite & wrinkles
treat headaches & migraine
boost immunity, mental clarity, memory, concentration
balance hormones & emotions
fight inflammation, bacteria, virus, or fungus
aid in weight loss
restore skin condition (such as burns, cuts and scrapes)
calm irritated skin, improve acne
improve digestion
natural hair care
naturally clean your home without toxic chemicals
non-toxic bug repellent
improve hospice and palliative care
alleviate side effects of chimeotherapy
Online Shop
Essential Oils
Essential Oils »
Special Offers
Special Offers »