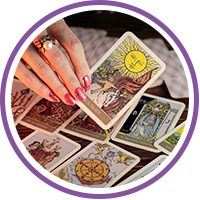 Oracle Reading
Messages from the Universe
Since the dawn of time, people have sought the advice of an oracle. The desire for clarity and insight, the need to make sense of the turmoil of everyday life and find peace with our place in the world is legitimate.
The wish to understand the greater meaning of the changes we face; the desire to understand ourselves in relationship to those we love, the need to know how our professional situation will evolve, all these are reasons to seek beyond our own mind for a glimpse of a greater plan.
Oracles are cards of divination and guidance that can be used to obtain advice and predictions on different aspects of your life, to find answers to questions or to work on yourself.
Embrace the gentle messages and support that are all around you at every moment.
It is my pleasure to be able to offer you consultations with, among others, the french Oracle Belline to meet this need.
Duration of the consultation: between 60 and 90 minutes Price of a complete consultation: 80 €